Small Town Charm and Impressive Nature
Akureyri is the second largest city in Iceland – next to the metropolitan area of Reykjavik – with almost 20,000 inhabitants. It is also the gateway to the breathtaking natural diversity in the north of the island. There are plenty of excursion destinations to tempt you around this small town: the impressive Dettifoss and Godafoss waterfalls, Lake Myvatn with its 50 tiny islands and skerries, the Ásbyrgi Gorge, the Hverarönd geothermal area, and many more impressive natural spectacles await you! Most of the highlights can be combined in a round trip. A well-known route is the Diamond Circle, which covers about 260 kilometres.
If you want to immerse yourself in the charming city life for a day or two before or after your sightseeing tour, Akureyri has plenty to offer its guests. In addition to numerous cosy cafes and restaurants and a wide range of cultural offerings, the Akureyrarkirkja Church is arguably the city's most popular sightseeing destination and can be seen from afar. Those who love plants and flowers should make sure to see the Listagarðurinn botanical garden. And those who wish Christmas could be every day shouldn't want to miss out on a visit to the Christmas House with its many souvenirs.
Facts & figures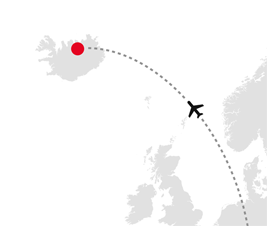 Flight time

3:50 h

Distance

2664 km

Timezone

GMT

Airport
Language

Icelandic

Currency

ISK
Edelweiss tips for Akureyri
Sightseeing in your Akureyri holidays
The 3.5-kilometre-long, horseshoe-shaped Ásbyrgi Gorge, popularly known as the "Haven of the Gods" (shown here from a bird's eye view) looks almost surreal. In Iceland, this impressive rock formation is considered the capital of the elves.

Just a few kilometres outside Akureyri is the Laufás peat farm. Built around 1865, it now serves as a museum, providing a look at the way of life and construction methods of the time.

The mighty waters of the Goðafoss (the divine waterfall) plunge eleven metres into the depths – a natural spectacle that you should definitely not miss.

Have you ever seen such giants up close? If not, Akureyri is the perfect place to book a whale watching tour. Husavik in particular is worth a visit as the "Whale Watching Capital of Europe".
Related holiday destinations